A PREMIUM FULLY INTEGRATED UAE BASED BUSINESS AVIATION FACILITY WITH PASSION FOR EXCELLENCE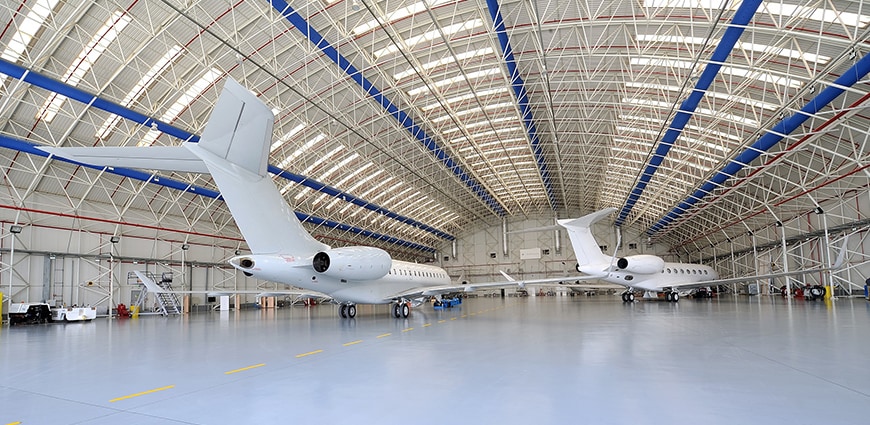 DC AVIATION AL-FUTTAIM UNITES QUALITY MADE IN GERMANY AND ARABIC HOSPITALITY
DC Aviation Al-Futtaim is a joint venture between Al-Futtaim and Stuttgart based DC Aviation GmbH, the largest operator of business jets in Germany and one of the leading operators in Europe. The JV capitalises on Al-Futtaim's strong fundamentals and presence in the Middle East, and DC Aviation's global reputation as a premium provider of aircraft management, executive charter operations, business jet maintenance and consultation services.
DC Aviation Al-Futtaim is the first and only fully integrated business aviation facility based out of Al Maktoum International Airport located at Dubai South (formerly Dubai World Central) with a dedicated hangar measuring 5,700sqm and a 1,300sqm exclusive VVIP lounge area designed to international standards offering customers the highest levels of comfort and privacy, shower areas and a conference room in addition to a 24-hour on-site security, screening facilities, customs and immigration services by which customers are assured of a speedy and enjoyable travel experience.
DC Aviation Al-Futtaim's core areas of business include: aircraft management, maintenance, Fixed Base Operator (FBO) services and ground handling services as well as business jet charter.
Through their line maintenance capabilities catering to various business jets; owners and operators receive a diverse range of maintenance services, from spare parts supply, procurement and storage, to maintenance and airworthiness certification.
The aircraft management division is helping business jet owners to optimise their aircraft assets, by operating aircraft in an environment in line with the highest industry standards with regards to flight safety and airworthiness. Clients also benefit from significant cost saving potential on insurance, fuel purchasing and other relevant flight support services.
DC Aviation Al-Futtaim's business jet charter clients will benefit from the operator's fleet size and variety and a 24/7 operation designed to provide immediate response to requests.